Center Sr High School


Class Of 1964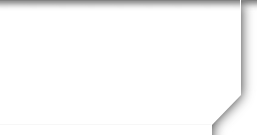 Winter 2020 Newsletter
Several weeks ago we did not have enough content for a newsletter. Cabin fever must have hit everyone at the same time because now we have a lot of material. Usually we just gathered up information that had accumulated and sent out a newsletter. We are going to move to a regularly scheduled newsletter. The deadlines are published towards the end of this newsletter. Please send in your updates and any articles you want to write.
Upcoming Events
February 3rd Dining for Dollars. Monday 5-10 PM Blue Moose Grill in Red Bridge Shopping Center. See announcement in this newsletter.
February 20th Thursday, 11:30, Ladies' Luncheon, Neighborhood Cafe, 7531 Wornall Rd. Casual restaurant serving both breakfast and lunch. Contact Karen Hanover Johnson. If you do not have her email address, call her at 816-943-1239.
February 29th Center Education Foundation annual "Autos and Auctions" dinner. See note from Rick Chambers in this newsletter.
March 20th –Center All-Class Dinner, 6 PM, RC's, Martin City.
Recent Passings
Wayne Robinett--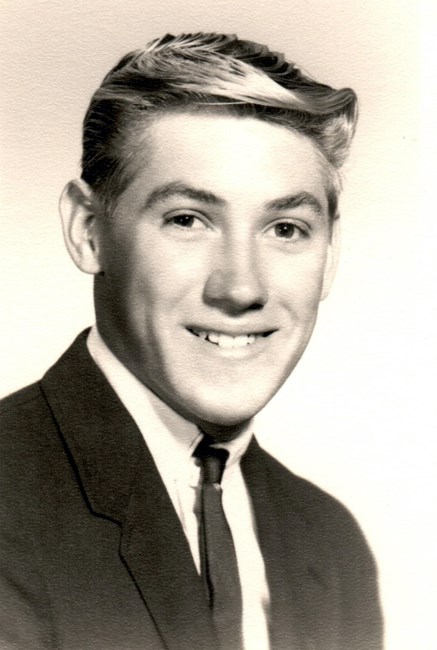 Wayne Robinett passed away January 4th. We have no additional information at this time. We missed this when it was posted in the KC Star. Here is a link to his obituary. Scroll down on that page until you come to the photos. The family posted many photos of Wayne. Three of the photos are posted on a page in this newsletter. One is of Wayne and several friends. The others are grade school class photos. If you can identify anyone in any of the photos please reply back.
Passing of Karen Jonson Hanover's father--
Here is another one we missed. Neal Johnson passed away December 1st at the age of 101. Karen says it was peaceful and he was surrounded by family. Here is a link to the KC Star obituary. A very interesting person.
ed. note—We read the names listed in the obituaries of the Star daily, but seldom read the whole obit unless we recognize a name. If you see a classmate or parent of a classmate has passed, let us know so we can notify the class. Thanks!
Classmate's Updates
Sharon Podraza Ballew--"We are enjoying our winter in Green Valley AZ. So glad to be out of the ice and snow. Enjoying good health, hiking the mountains, biking and walking our two four legged rescue dogs, Heidi(1/2 boxer,1/4 lab,1/4 Louisiana Leopard dog, and Bea the beagle) fun fun."
Carolyn Townsend Black--"Moved to John Knox Village and love it. Have a cozy Papa and Mimi cottage just right for the two of us."
Don Snoddy—Vern Bailery reports that Don is doing well. No significant change but very upbeat. Currently on the ranch near Chadron NE.
Bill Baskin--"My sister Jean (Center Class of '69) surprised me with a nomination for the annual "Outstanding Alumni" award ceremony this Feb. 29th. I was surprised and honored to be chosen one of 3 from different classes. Our class had many equally deserving!"
Arnie Lerner--"Hi Everyone – I will be a presenter at the 2020 National ADA Symposium in Kansas City, May 10-13, being held at the Loews Hotel Kansas City (event venue). My topic is 4H) Civic Response to Drive by Lawsuits: San Francisco's Accessible Business Entrance (program). If anyone is attending the symposium, please stop by, would love to see you there."
Dennis Tull--"After going thru stage 4 colon cancer last year (now cancer free), I have decided to turn over the business to my son Jeff. Smiley's Golf Complex in Lenexa is still running smoothly! Judy and I are still spending the winters in La Quinta, California! Playing lots of tennis and golf! Thank you all for prayers last year!"
Harvey Oxman--"Though In the past I have rarely used this site, I do think it is a good way for people to keep in touch. It might also be a good way to keep our fragile minds working by commenting on those issues that might be of interest to most people. Those issues could be of a personal nature, or common interests that people might have, or issues of a social, political nature. It would also allow people to comment to each other with a a back and forth discussion, provided we don't get too nasty with one another!! Just a thought."
ed. note-- Our website allows both general postings and direct classmate to classmate emails. We also have a Facebook Page although it is rarely used.
Bouncing emails
The following classmates' emails have been bouncing. If you have contact with them, let them know they need to send us their new email addresses.
Ron Judd
Sharon Nash Engel
Mike Finucan
Katsy Hamilton Erwin
Birthdays in February, March, and April
Here are some upcoming birthdays. These dates are the ones entered in the website. Not everyone entered a date, so if your birthday is in this range and you are not listed you need to go to your profile on the website and enter the date. Same if the date is wrong. You need to make a correction on the website.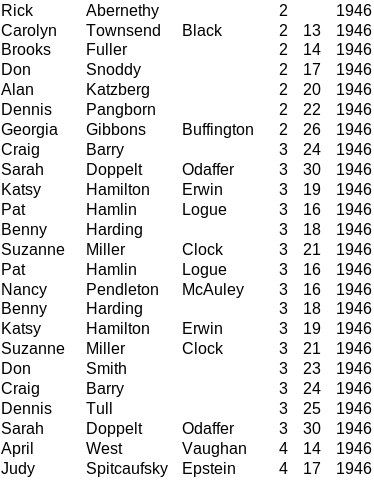 From the KC Star--
Chiefs help Center High get new synthetic turf football field as part of NFL grant BY SHAUN GOODWIN SPECIAL TO THE STAR
Center High School is set to become the second Kansas City-area high school to receive a $250,000 grant from the Kansas City Chiefs to build a new synthetic turf field.
In coordination with the NFL and Local Initiatives Support Corporation (LISC), the Chiefs are part of a program that is granting $3 million nationwide to high schools in need of new football fields.
"We are once again proud to partner with LISC and the NFL Foundation's Grassroots Program to present Center High School with this grant," Chiefs president Mark Donovan said in a press release.
"We have seen firsthand how much the game of football can have a positive impact on an entire community. We will continue to support youth and high school football programs in our area, and we look forward to seeing the new advancements at Center High School in the near future."
Center High joins Lincoln Prep as Kansas City-area schools to receive the grant. Lincoln began playing games on its new field in October.
"We're very thankful to the Chiefs." said Center head football coach Bryan DeLong. "We've been involved with the Chiefs for several years with Gary Spani — he's a representative for them — he comes out to our practice about once a year and talks to the kids and shares with them. For them to support us in this way with such a big grant, it's a huge deal."
The road that led to Center being picked to receive the grant begins with Spani, a Kansas State and Chiefs linebacker during the 1970s and '80s.
Since 1996, the Chiefs have selected a coach of the week — or "Team of the Week" as DeLong prefers it — for all levels of Kansas City-area high school football. Spani, who has worked in the Chiefs' front office for over 30 years, is the guy who visits the winning schools and coaches in person.
"We've won that probably five or six times, so whenever we've won it, Gary comes out and brings T-shirts for the boys or brings something for the team, a signed football or some sort of Chiefs paraphernalia," DeLong said. "And every time we get him out here, I don't miss an opportunity, I always want him to talk to the kids."
The frequent meetings between DeLong and Spani have allowed the pair to strike up a relationship.
DeLong believes this friendship, along with Center's success as a football team over the years, played a part in Center being picked as just one of 12 schools in the nation to receive the grant.
"He's just a class act and does things the right way," DeLong said. "Anytime we can have someone like that talk to our kids and share their experiences, we really have much love for Mr. Spani."
The grant arrives at a good time for the Center Yellowjackets, who now have a nearly a full offseason to begin preparations for and construction of the new field. Center is one of the few schools remaining in the Kansas City area to still play on natural grass.
In the past, Center has reserved its main football field for game days only, opting for a less-than-pristine practice field the rest of the time. But even then, injuries due to uneven playing surfaces and bad weather have plagued DeLong's teams, whereas other schools benefit from practicing and playing on synthetic turf.
"With the turf, it's so exciting to me as a coach to be able to have a surface for practice every day," DeLong said. "Whether it's rainy or rained 3 inches the night before, to know that we have a solid surface that we're not going to be falling down mud or twisting ankles or hurting ourselves."
With Center becoming the second high school in the area to receive the grant, DeLong says it shows the dedication and care that the Chiefs show their local community.
"It sort of humbles you when a big, powerful organization, don't forget the little people. And what's it about? The kids; and we all love sports and love to cheer on the Chiefs, but why do we have sports?" DeLong said. "To teach kids to work hard and persevere through adversity and do those kinds of things and to know that we have (the Chiefs) in our corner is phenomenal. I can't be gracious enough to the Chiefs."
"I'll be cheering a little extra hard for the Chiefs this weekend, that's for sure," he continued. "It means a lot to us."
Newsletter Deadlines
We have been sending out newsletters somewhat randomly. We will try something more regular. Four times a year, roughly Spring (April), Summer (July), Fall (October) and Winter (January). Please send in your updates, stories, articles etc. Deadlines are April 1 (Spring issue), July 1, October 1, and January 5th.
Dining for Dollars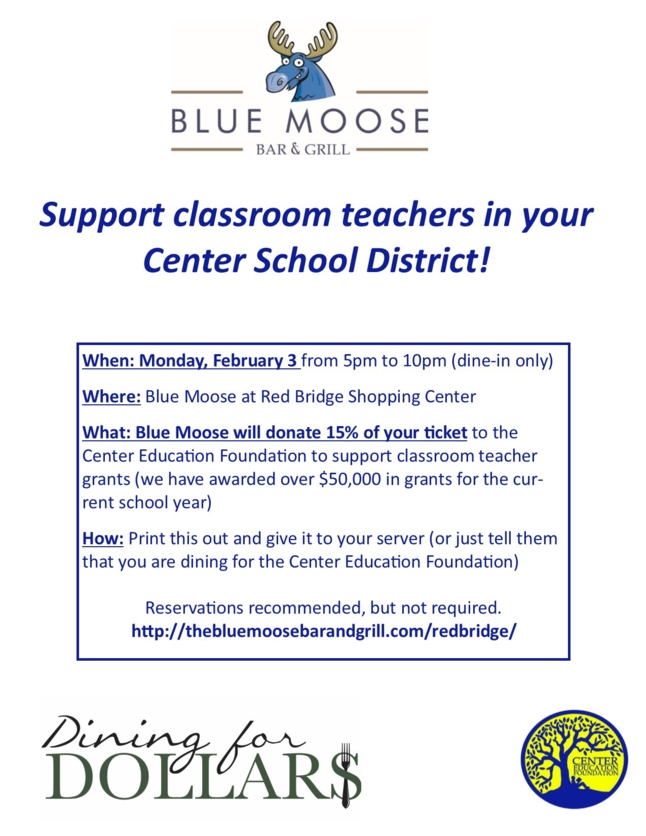 Note from Rick Chambers, Executive Director of the Center School District Education Foundation:
The Center Education Foundation has a wonderful event coming up soon (Feb. 29) called Autos & Auctions. It is a unique event bringing alumni together with current parents, staff, and community to celebrate the thing we call "Center family". We honor distinguished alumni (this year's recipients are Dr. William Baskin from 1964, Carol DiRaimo from 1979, and Tom Apel, posthumously, from the class of 1972). We have an excellent dinner catered by Carmen's of Brookside along with an open bar, silent auction with plenty of Chiefs stuff, and live music. All of this is held at the Armacost Auto Museum, housing a collection of 80 vintage automobiles and located in Grandview. The funds raised by Autos & Auctions benefit our Teacher Grant program, helping teachers change the lives of their students (just like they did when you were in school).
For more information contact Rick at 816-863-2254 or Rick@centereducationfoundation.org.
Purchase tickets online on the foundation's website at www.centereducationfoundation.org.
2020 Distinguished Alumni Award Recipient
Dr. William Baskin (1964)
(by Rick Chambers, Center Education Foundation)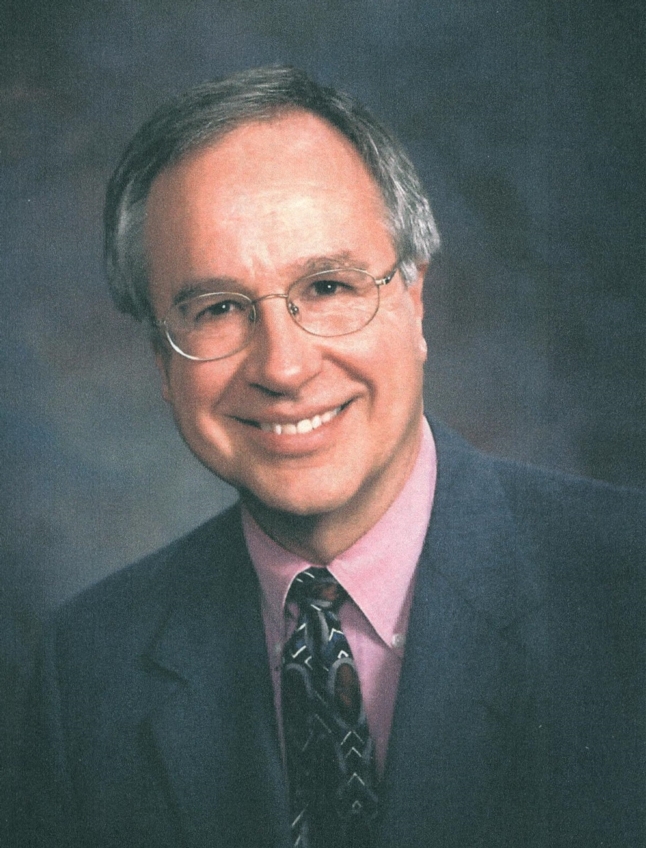 Dr. William Baskin, 1964 graduate and one of this year's recipients of the Distinguished Alumni Award, has heard all the jokes about being a gastroenterologist (like the Navy friend who referred to him as the "rear" admiral). Dr. Baskin is quick to point out that the gastroenterology deals with the entire system from what goes in at the top to what comes out at the other end! He has spent his career focused on researching how the total system works, teaching its intricacies to to medical students, and helping patients live longer and better lives as a result of his understanding.
The foundation for Dr. Baskin's work was laid at Center High School with some outstanding science teachers. He particularly remembers Dr. Steiner, whose courses were superior in content and rigor to many of the courses that Dr. Baskin took in college. Favorite memories included the dissection of not only the traditional frog, but also pigs and cats. Dr. Steiner not only covered the basic anatomy of the animals, but how the different elements worked together as a system. This was a fundamental understanding that has stayed with Dr. Baskin throughout his career.
After an outstanding academic career at the University of Missouri Medical Center, including a Golden Apple teaching award during his residency, Dr. Baskin moved to Rockford, IL to join a practice affiliated with the University of Illinois College of Medicine. During his 30+ year career he helped the practice experience tremendous growth, received seven more Golden Apple awards for teaching excellence, published extensive research advancing his specialty, and positively impacted the lives of thousands of patients. Key accomplishments included pioneering work in the ease and speed of colonoscopy examinations, making them more convenient and accessible to patients, saving countless lives through earlier detection of disease.
In recent years Dr. Baskin has faced his own health challenges, including a battle with Parkinson's. He is taking on the disease with a combination of good nutrition, consistent medical care, exercise, and a strong spiritual faith. He has also helped his wife overcome a cancer diagnosis.
Thanks to Dr. William Baskin for his outstanding work on behalf of better health! We all look forward to celebrating the Distinguished Alumni Award with him on February 29th!
Photos from Wayne Robinett's Tribute Site--
The following photos were posted on Wayne's tribute site. Please identify the people, grade school and classes in these photos. There are many more photos on his site.